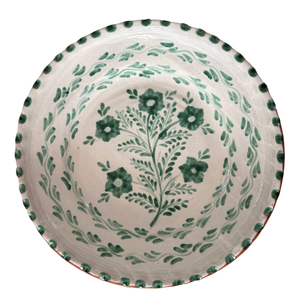 Climbing Flores Lebrillo
Details
Diameter approx 22 inches (53 cm)
Made with materials free of lead
Due to the handcrafted nature of this product, there will be slight variation in the design and dye lot of each unique, handpainted plate.
Dishwasher safe
We recommend using a fragrant free, non-abrasive detergent on delicate, gentle, or air dry cycle. We recommend spacing the dishes so they avoid touching during dishwashing and never in fully loaded dishwasher.
All dishes should be dried thoroughly before being stored.
Microwave Safe
Excessive exposure to high heat may cause damage.
May be hot to touch after exposure to high temperatures  
No returns or exchanges. All sales are final unless damaged upon delivery.